In the Netherlands launched the first private yacht-icebreaker La Datcha. The ship was created by the company specifically for Yachting Damen Oleg Tinkov.
The length of the yacht is 77 meters, located in the sea it may be 40 days, and the inside has space for 12 guests and 25 crew members. In addition, a submersible, two snowmobiles and a helicopter and four jet ski.
The entrepreneur plans to carry out on the yacht for about 20 weeks a year, the rest of the time rent it. The cost of the weekly rent was estimated at 740 million euros (~59.5 million rubles), plus a 30% Deposit. For the icebreaker Oleg Tinkov gave more than 100 million euros.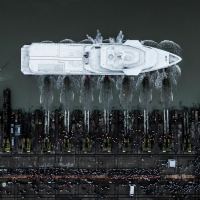 Renderings of the yacht

Recall now Oleg Tinkov is undergoing treatment for leukemia that was found in October 2019.
Subscribe to Rozetked Telegram in «Vkontakte» and YouTube.
Source:
La Datcha

Source