Friday, 26 January, Apple CEO Tim cook spoke at Harlow College in Essex (UK), in one of the 70 institutions throughout Europe, which will use a system of teaching coding from Apple — Everyone Can Code. The Guardian newspaper has highlighted the main of his speech, and Rozetked transferred.
On the limitation of technologies
57-year-old CEO, who took the reins of Apple after the death of Steve jobs in 2011, stated that the company cares about the children outside the classroom.
«I have no child, but I have a nephew, whom I put restrictions. There are some things I will not allow. I don't want him sitting in social networks,» said Tim cook. «I don't believe in excessive use [of technology]. I'm not the person who says we're a success if you use them all the time. I didn't sign up for things.»
Even in the computer courses such as graphic design, the technology should not dominate, he said.
«There are disciplines where you need to speak and understand. When studying literature, do I think that you need more use of technology? Probably not».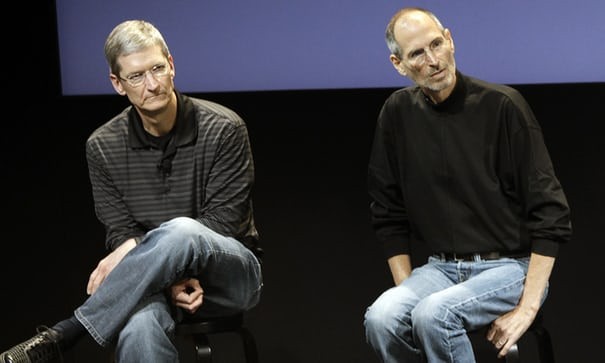 Tim cook and Steve jobs in 2010
About Cook
Despite the fact that he just got out of a private jet, cook communicated with the teachers and students at ease. Dressed in a blue jumper, grey jeans and blue-suede shoes he don't look like a billionaire.
«He's the most famous guest we've ever attended,» said one of the teachers.
Tim cook was born in mobile, Alabama in 1960, raised in the city of Robertsdale. He spent 12 years at IBM before jobs called him to join Apple in 1998. According to cook, he was attracted by the passion and purpose of jobs «to serve humanity». «After 15 years of searching for something just clicked. Finally, I found what I was looking for.»
As senior Vice President of worldwide operations, he closed factories and warehouses, replacing them with contract manufacturers in Asia. He also controlled expenses and long-term transactions on components, including flash memory for iPod Nano, iPhone and iPad.
Cook became chief operating officer in 2007, and was replaced by jobs during his illness since 2009 and has assumed the role of CEO two years later.
Since then, he has put his own stamp on Apple. In 2014, the Financial Times recognized the cook's person of the year, noting his passion to do «things not for profit, but because they are right and necessary». As CEO, he advocated initiative in the field of health, e-waste and renewable energy and educational projects, programming from Apple.
About the program of learning programming
Annual training programme coding, adopted at Harlow College, located half an hour drive North of London, is designed to develop in students computational skills through the use of various games, lessons and interactive materials.
Each student receives an iPad preloaded with applications and tools to encode, teachers only need to guide them. Students can track their progress and get feedback, finishing the year with two qualifications.
Student Athena, 17 years old, said, «In middle school are taught mainly programming web sites in vivid colors, and here focus on developing real games».
Cook says: «I think if you have the choice, it is more important to learn programming than to learn a foreign language. I know people who disagree with me on this issue. But programming is a global language. It is a way to speak to seven billion people.»
Apple in 2018 remains private and «closed» company, but she's willing to admit that this is not always a good thing, including apologizing for the recent problems with slow old iPhone.
About my personal life
About cook's personal life little is known, except that he begins sending emails at 4:30 in the morning, and then going to a private gym before heading to the office. He apparently loves Cycling.
Tim cook was the first CEO of the Fortune 500, which is openly acknowledged myself as a gay man in 2014. Since then, he became a powerful defender of LGBT rights and a supporter of private life, against global surveillance and education to combat gender diversity.
«I believed it for a long time, and it intersects with the interests of Apple, which has a deep belief that education equalizes people,» cook said.
Cook publicly defended immigration Daca program, describing the actions of Donald trump's unacceptable and «making our country like we are.»
About politics
He also supports the democratic party, organizing a fundraiser for senators and fundraiser for Barack Obama in 2008 and Hillary Clinton in 2016. It is reported that he was seen as a potential candidate for the post of Vice-President, in case of victory Clinton.
Wednesday, January 24, Apple announced that it will spend $ 30 billion over the next five years to build in the USA, 20 000 new jobs. It has pushed tax reform the President of the United States.
During his election campaign trump used the Apple as a symbol of the improper behavior of corporate America: «We are going to give Apple the opportunity to do their damn computers and things in this country and not in others.»
Cook said this week: «we Have a deep sense of responsibility to return to our country and to the people that help us succeed.»
The company will also make a one-time payment in the amount of 38 billion dollars to repatriate some of their foreign accounts. The world's largest taxpayer remains the subject of fierce criticism for their tax Affairs, including transfer of its subsidiaries from Ireland to the United States after the tightening of tax rules.
Commenting on the situation the Guardian cook said: «the Correct way to solve a multinational tax the whole world, because if you do otherwise, it turns out the tug of war between the two countries, saying «I want this, I want that»».
«I think the press is essential to any functioning democracy. I believe in it.»
Source:
The Guardian

Source