Last weekend the legendary Lego bricks is 60 years old. The company celebrated this event in an unusual way — by building a 10-meter big cube of 133 000 small cubes. The whole process is recorded in timelapse.
The whole process took 350 hours or 14 and a half days, and the video lasts only two minutes. For comparison, the largest set Lego has 7 541 part — «Millennium Falcon», presented last year at a price of $ 800. If the scale is at the works of employees, the cost of such a huge cube — 14 $ 109.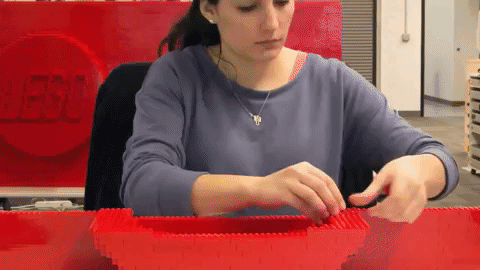 In the video it is noticeable that as the scaffolding to use larger parts from Lego Duplo set, designed for younger children.
Manufacturing of LEGO bricks began in 1949, but as we know it today it was only in 1958, after a series of tests and improvements. To date, the accuracy of the forms does not exceed the thickness of a human hair (0.004 mm).
Was originally released in five variants of colors: white, yellow, red, green and blue. Now the cubes are available in more than 60 different colors. Six-pack 2 to 4 can be connected in 915 million different combinations!
In 1999, LEGO recognized the «Toy of the century».