Opera released a mobile browser, Opera Touch, a key feature of which is the interface optimized for one-hand operation.
Opera Touch the tab control and go to the home page is done by one button, located at the bottom center of the screen. One click takes the user to the home screen, long click opens a radial menu with multiple tabs open and a number of options.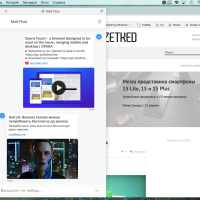 If the user is on a page, options include: refresh, close the page and send it to Flow. On the home screen the options are scanning QR codes, search, and voice search.
My Flow service that synchronizes Opera browser for PC with Opera Touch on a mobile device. More like a messenger between the stationary and mobile versions of the browser. Set on just scan the QR code of Opera for PC on your mobile device.
While Opera Touch is only available on Android 5.0 or higher. The browser obviously needs modification, since My Flow and the tab bar still refuse to work properly. The iOS version will appear soon.
Source:
Opera

Source