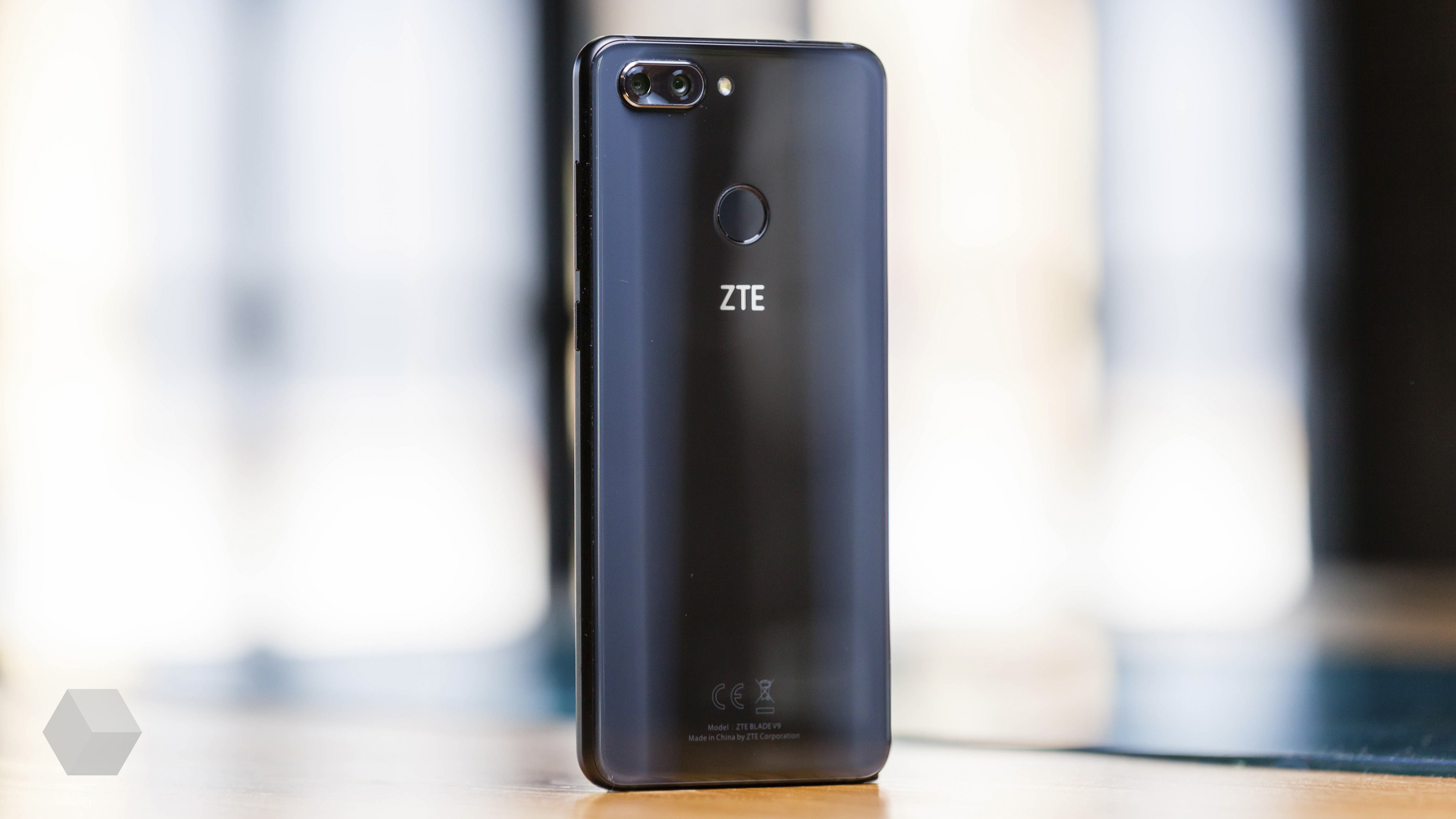 The Chinese company ZTE is one of the largest in China and one of those who managed to achieve success not only in native market but also beyond. For example, USA, where the most popular line of the Axon. And no matter how eccentric was not Donald trump, he is unlikely to cope with such a large company. Especially when they have opened a «second wind».
No, the flagship Axon is not shown, but the latest addition, introduced at the MWC in 2018, is worth attention.
Dimensions: 151,4×70,6×7.6 mm, 140 g
Display: 5,7″, 18:9, 2160×1080 (424 ppi), IPS, 2.5 D
CPU: 8-core Qualcomm Snapdragon 450, 1.8 GHz, Adreno 506
Camera: 16+5 MP, aperture f/1,8 (main double), 13 MP, aperture f/2.0 (front)
Memory: 3/4 GB of RAM, 32/64 GB ROM, microSD slot (up to 256GB)
Battery: 3200 mAh
OS: Android 8.1 Oreo
Communication: Wi-Fi 802.11 a/b/g/n (2.4 GHz), Bluetooth 4.2, microUSB, NFC, FM, LTE Cat.6
Case color: black, gold and blue
Appearance
The range of Blade was unremarkable, until V9. Series mainstream, production use plastic, but not this time.
Housing glass with its unique shimmering in the light pattern. All three versions of the colors — black, gold and blue. Especially cool looks the last. Glass easily soiled, but the oleophobic coating is not saved, the prints are easily removed with a rag. The device frame metal matte.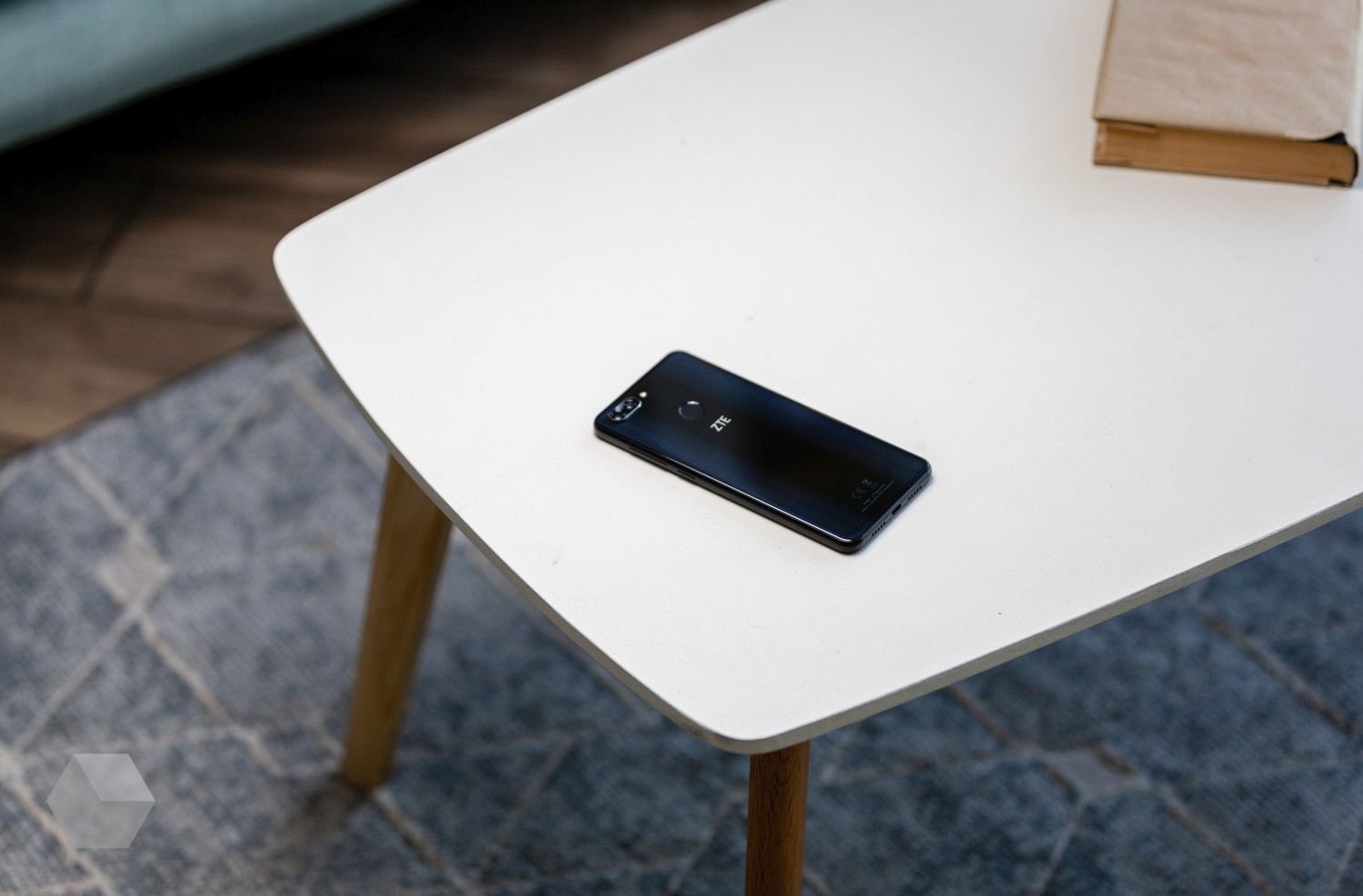 The back is the logo, and above it a fingerprint scanner. In the upper left corner of the double protruding from the housing of the camera and the flash.
The volume rocker right underneath the power button with a relief that you understood where to click. Left hybrid slot — one memory card and SIM or dual SIM.
Bottom speaker, stylized speaker microphone and microUSB. Upstairs a second microphone and mini-jack.
The front above the screen proximity sensor and ambient light, the camera and the led notification. Under the screen is a small ledge on which there is nothing.
The thickness of the device is only 7.5 mm. In his hand is confident, despite the glass does not slide in hands bites, while the corners of the edges a little nicked.
Assembly at the highest level, no complaints about the quality. Returning to the subject of flowers, in the second place, we have given the black version, glass which combines perfectly with the matte black frame. For sale in Russia, just the black version, along with gold. Blue has not yet brought. Sad.
Display
Presentable, or as we like to say, expensive smartphone — it's good, but we buy it not only for pleasing to the eye. The most important is the screen. The matrix, of course, IPS screen size is 5.7 inches, the resolution is 2160 x 1080 (FullHD+), 424 pixels per inch, aspect ratio 18:9 (or 2 to 1). Version of safety glass was not disclosed, excellent wear-resistant oleophobic coating.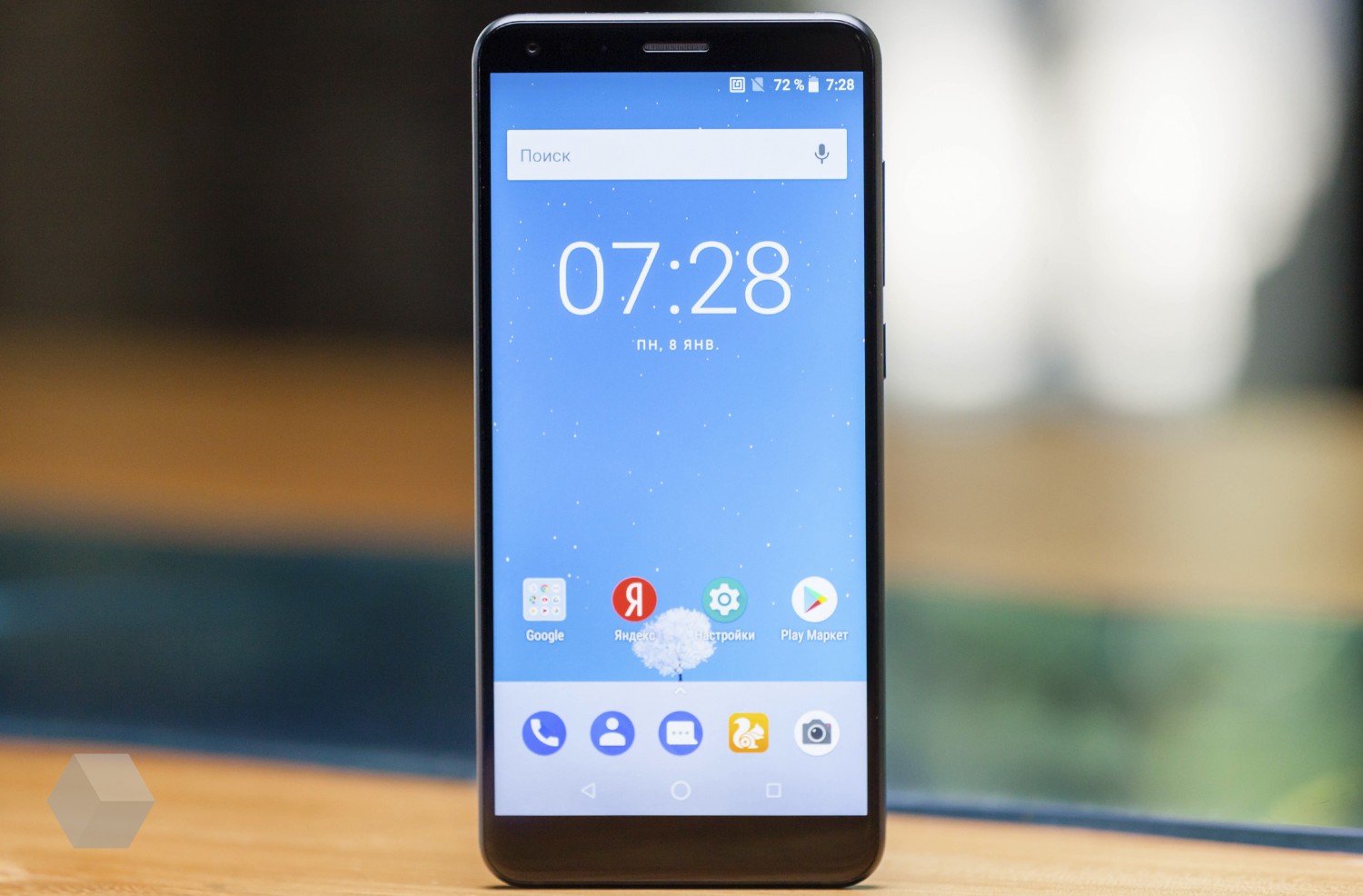 The colors are a bit gone in cold tones, with fine tuning color no. There is a reading mode. Sun info are distinguishable.
In General, claims about the quality there is no display and it is much better than Redmi 5 Plus, with which to compare this model. But more on that later.
Software and unlock face
Speaking of fine tuning, pay attention to Android. The smartphone runs on Nougat. No extra shells, only a small improvement in the company called ZTE MiFavor UI. For example, customize the control keys, the recommendation application, built-in application SuperB cleaning Cleaner app for migrating a database to another device Z-Backup and test period of the application for data protection ZenMate.
Also has unlock function entity. To unlock uses the front camera works at night, but the response speed is poor — about two seconds. In this regard, the fingerprint scanner seems to be instantaneous and error-triggered yet.
Performance and sound
ZTE V9 runs on the Qualcomm Snapdragon 450, performed on 14-nanometer process technology. He's a little weaker than the popular Snapdragon 625 — frequency is 0.2 GHz below the maximum memory bandwidth is also lower, but in reality it is difficult to notice. RAM — 3 or 4GB.
In synthetic benchmarks the following indicators: 71 thousand in AnTuTu, GeekBench in single core 700 and 3 700 in multi-core testing.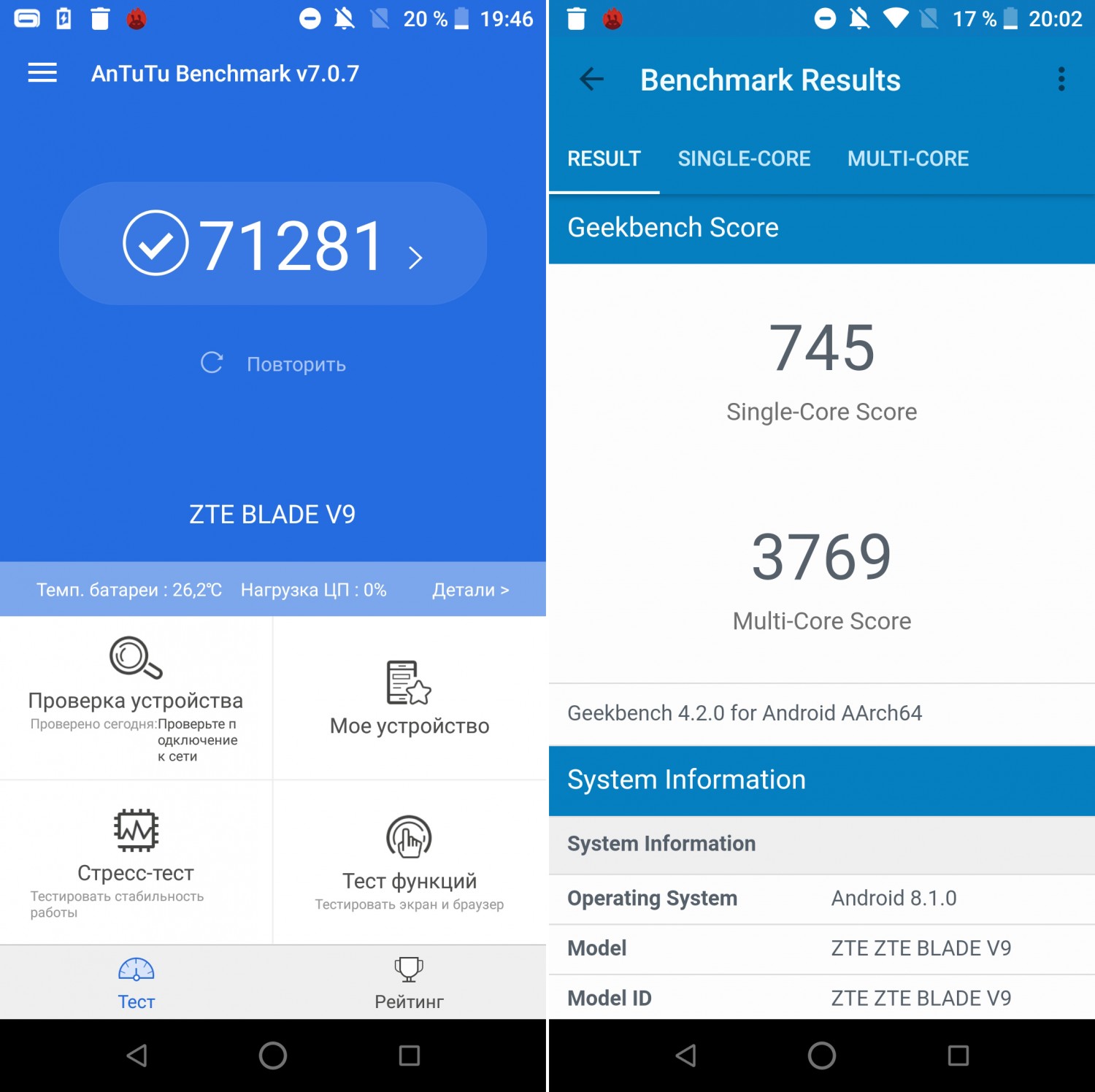 Most games go without problems, but when running heavy, like World of Tanks or Asphalt 8 there was a significant slowdowns. But positioning V9 Blade as a gaming device would be silly. Here's the other thing. Under heavy loads, the heating is insignificant.
Built-in memory-several options — 32 or 64 GB, but, sacrificing the second SIM card, it can be increased to 256 GB.
Supports eight bands of 4G: 1, 3, 5, 7, 8, 20, 28, 38. Support NFC. Yes, mid-priced Chinese smartphone is NFC, checkmate to all who did not believe. To make purchases you can use Google Pay. It would seem, a trifle, but a significant advantage over competitors.
The battery at 3200 mAh. The manufacturer promises up to 8 hours in active use, I have enough for 6-7 max. Charging via microUSB from 0 to 100% in two hours.

DTS Sound

There is only one speaker, but not loud and throaty on the high notes. Headphone left not in vain. There is a special application DTS Sound, which allows you to increase the bass or the vocals and tweak the equalizer. Settings include music, movies and games, as well as headphones or external speaker. Especially the difference is felt, of course, with headphones. Buying a smartphone middle class obviously don't expect to get quality sound, but V9 Blade, you definitely will be surprised.
What about the cameras
The appearance is lovely, there's NFC and high-quality sound in headphones, what else do you need? Right, to cameras always close attention. And, most of all, srednebyudzhetnykh nothing can not boast. Don't expect the level of Huawei P20 6 or OnePlus, but to fight budgetcare Huawei or Xiaomi V9 Blade can safely.
Application camera here. There are manual and night modes, panorama, exposure, interval shooting and time-lapse, collage, retouch and even b/W pictures. You can do a Live photo as the iPhone. The selection is large.
Let's start with the front-facing camera, 13-megapixel eye. From him I expected nothing but the pictures I really liked. This should be a selfie-camera in most devices. There are improvers of persons for those who enjoy it.
Well, what with the main eye. Let me remind you, here is a double serving from the housing chamber, 16+5 MP. The optical stabilization no. Aperture of f/1.8. The abundance of shooting modes allows you to choose settings for each situation. But I would single out macro, blur, which is better for portrait mode.
Portrait mode often misses, does not recognize the face, I hope this is the problem in the software will be corrected. Pictures in daylight hard to mess up. Most of the good. Especially colorfully get the HDR photo.

Panorama


Portrait


Panorama


Panorama


Without HDR


WITH HDR


Collage
Mode b/W you can tweak the RGB colors, that is all black and white except for the red, green or blue elements. When something needed painting in photoshop, now the smartphone will do the a second.
With night photos while I lack the sharpness and auto mode is not always correctly adjust.
Video is not a strong point of the device. Maximum FullHD, there are slow motion.
Competitors and insights
Network ZTE V9 Blade like to compare with Xiaomi Redmi or Honor 5 Plus 9 Lite. They seem to be the more powerful processors. But, Redmi 5 Plus no NFC, the camera is worse and it looks seriously loses. And Honor 9 Lite battery volume is smaller, the camera is slightly worse and ugly proprietary shell (solved partially by the launcher).
ZTE V9 Blade in Russia can be bought for 15 thousand roubles, and it is worth the money. First, it is attractive and suitable not only for boy but also for girls. Second, there is NFC for contactless payment. Thirdly, good front and rear camera. Fourth, almost «naked» Android. There are drawbacks in the form of microUSB, slow unlocking face, and a relatively weak processor.
ZTE have turned out really good mainstream device and I want to wish the company not to rest on our laurels. After the decision of difficulties with the supply of components now I'm waiting for a powerful flagship that can compete with low Chinese counterparts.