We were able to meet with the new flagship Google before the official release, which is expected to be held on 4 October. Tell about the first impressions arising in «communication» with the device.
That rear?
In the third generation design of the device have slightly changed. Glossy insert in the upper part of the body remained, but now it is painted in the body colour.
The smartphone appeared wireless charging, but it is not clear how it is implemented. Given that the module is located at the center of the housing, the rear cover, most likely, this time made of plastic.
The main camera was left alone. Module 12.2 MP (f/1,8), that does not prevent him to post in the «nines» all of the competitors. View examples of photographs taken in Pixel 3 XL and see for yourself.
The fingerprint reader is also left behind. Faster than Pixel 2, but «catching up» Huawei, Meizu, and Xiaomi (with their latest models). Among the ports have a single Type-C on the bottom. The volume rocker and the power button is located on the right side. In addition, the power button is now without a ribbed surface, so now hand to grope her harder.
What front?
If behind the appearance of «pixels» has changed for the better, then design the front panel will be the subject of heated discussions.
The reason for that «Bang». To hide it is impossible. Face Unlock in Pixel 3 XL now no, but most likely the function will add later, because the bulge is hidden behind another camera module. Apparently, he infrared.
Please only 6.2 inch (exact size I can not yet say) OLED display with a resolution of 2960×1440 pixels and a front camera of 8 MP, which, like the main module, ahead of all competitors. Stereo speakers much enthusiasm do not cause. Just sound good.
Dimensions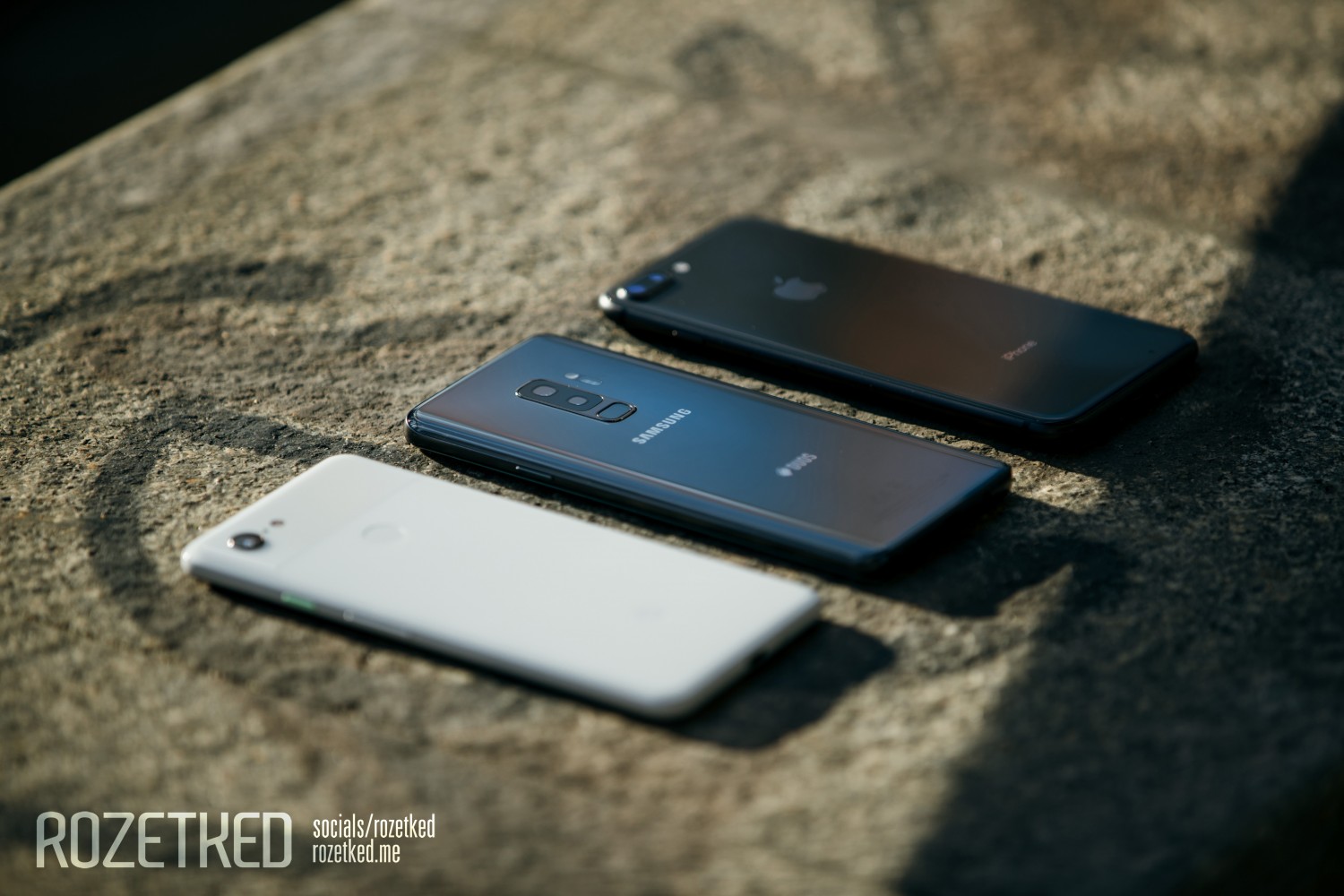 Here you have to compare Pixel 3 XL next to iPhone 8 Plus and Galaxy S9+. I will say this: the phone was exactly the same as the Pixel 2 XL (at hand which was not). Plus 3 XL fits perfect in the cover 2 XL.
What else?
With the flagship Snapdragon processor 845, Android Pie and «straight arms» of the Google Pixel 3 XL delivers blazing speed.
More encouraging are the local equivalent of the Taptic Engine, a fast camera app that is similar to an analogue of iOS, and new animated Wallpaper. In the box with the phone put wired analog Pixel Buds, working through Type-C.
To summarize
As expected, we received the best cameraphone available on the market, however, with the controversial solution to «Bang» on the front panel. Is it worth it to put up with it? This will show more familiarity with the device.